Arlyn Vineyard Pinot noir, Chardonnay, and Gamay noir fruit is sourced by dear friends and neighbors who are equally committed to Keeping the Promise of Oregon.
Big Table Farm is the collaboration of Brian Marcy and Clare Carver - winemaker and artist, respectively, who together farm 70 acres of gorgeous property in the Chehalem Mountains region of the Willamette Valley. We are inspired daily by their whole farm approach, watching and learning from Clare who cares for draft horses, cattle, goats, pigs, chickens, and honey bees. Brian's wines are consistently lauded as some of the best in Oregon and have twice been included in Wine Spectator's Top 100.
de Lancellotti Family Vineyards
Early partners in Bergstrom Wines and family owned and operated since 1998, the de Lancellotti family echoes the farming values of Arlyn with their biodynamic and sustainable approaches to agriculture. Paul and Kendall de Lancellotti are fixtures in the Willamette Valley for good reason. Arlyn is proud to have contributed Pinot noir fruit to the family's 2017 production and was honored to see that fruit bottled as a single vineyard expression.
Long regarded as one of Oregon's top producers of Pinot noir and Chardonnay, Soter Vineyards is the love labor of Tony and Michelle Soter and Co-Winemaker James Cahill in the Yamhill-Carlton AVA. Another true farm, Ranch Manager Nadine Basile oversees the hundreds of sheep, chicken, quail, alpacas, and vast gardens that call Mineral Springs Ranch their home. Soter's wines are soulful, made with finesse and expertise, and are ridiculously decorated in their accolades. Arlyn is proud to provide Soter with our biodynamically grown Pinot noir fruit.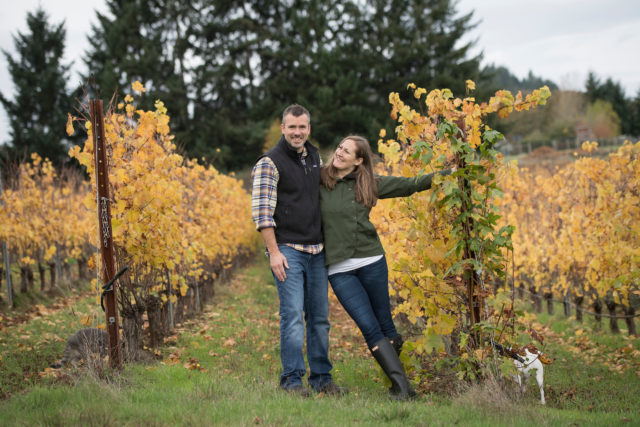 One-of-a-kind team, one-of-a-kind wines. Walter Scott is the collaboration of husband and wife team Ken Pahlow and Erica Landon, who craft their wines in the Eola-Amity Hills AVA. Incredibly tenacious and hardworking, deeply committed to quality , and also uncommonly kind human beings, Ken and Erica embody the pioneering Oregon spirit. You'll be hard-pressed to find a collaboration, initiative, or organization in the Willamette Valley these two haven't had a hand in, and their lasting legacy will be felt by all, but particularly their feisty and brilliant daughter, Lucy.